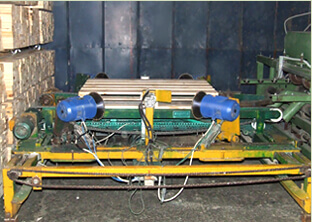 PalletShop company has its own automatic and semi-automatic manufacture, equipped with all necessary processing lines, drying chambers and storehouses. Our own manufacturing facilities allow us to preserve reasonable prices for new pallets. The main manufacture is carried out in Veliky Novgorod. The woodland location and storehouses provide maintenance of regularity of supply as well as storage of the raw materials regardless of season.
Pallet manufacturing consists of many smoothly running stages and is carried under the surveillance of qualified specialists. Before proceeding to work, our staff undergoes training, probation and performance evaluation.
PalletShop company possesses drying chambers where timber undergoes drying process. This timber is used for the manufacturing of euro-pallets in accordance with International Standards for Phytosanitary Measures ISPM 15. Dried feedstock for pallets and Euro-pallets manufacturing undergo antiseptic treatment of timber. Antiseptic dressing eliminates the flourishing effect in the further utilization of manufactured products.
All manufactured products undergo high-level quality control that assures our pallets quality. In addition to manufacturing quality control much attention is paid to manufactured pallets storage.
Manufacturing facilities of the company allow to preserve reasonable products prices and offer wide range of services:
Bespoke pallet manufacturing
Our processing lines allow to manufacture bespoke pallets and carry out any volume of orders. Manager of any close-in office will help you to specify the cost and delivery deadlines of bespoke pallet manufacturing.
Logo on the pallet
At the request of the customer PalletShop company offers special service. Pallets can be marked with a logo of a company or products. Trademark provides additional advertising for the products handled or stored on the pallet. Logo indicates that a pallet belongs to some company and facilitates stock count of the pallets for sale.
PalletShop company offers an additional service: damaged pallets can be exchanged for intact ones.
A wide range of new wooden pallets that meet the State Union Standard (GOST) and all other necessary standards are always in stock. That allows you to choose any kind of wooden pallet you need. You can buy an unlimited quantity of pallets and we will deliver your order within the shortest possible time period. Delivery of pallets will be effected at a time convenient to you. Our lorry-fleet allows to deliver unlimited quantity of pallets within the established time frame. To choose a suitable type of a vehicle, please refer to the vehicle capacity chart. Collection of the products by the buyer is possible.
The quality of the pallet is the foundation of your business.