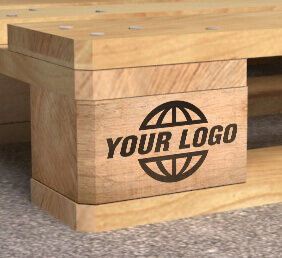 Pallets are often manufactured from fresh wood that is not undergone sufficient treatment to remove or do away harmful organisms contained in the timber. Thus, the spread of pests (larvae of beetles, microbes, mould) from pallets to transported goods is very likely to be. Due to this, in 2002 The Food and Agriculture Organization of the United Nations (FAO) adopted International Standards For Phytosanitary Measures No. 15 (ISPM 15) или "Regulation of wood packaging material in international trade".
ISPM 15 Standard provides manufacturing of containers from timber heat-treated at a temperature not lower than 56 ° C for at least 30 minutes, or treatment with methyl bromide gas. According to the requirements of the ISPM 15 Standard, wood packaging material must be without bark, wood pest as well as treated with antisepsis.
Phytosanitary treatment ISPM 15 is necessary for customs clearance during the export of the products on pallets out of Russian Federation. Custom control is held both during the leaving Russian Federation and arrival at the destination point.
PalletShop company performs the following antisepsis measures:
Chamber drying
Heat treatment
Fumigation of wooden pallets with methyl bromide
A customer receives pallets together with the act of passing phytosanitary heat treatment. In virtue of it, documents for the export of the products abroad are issued.