PalletShop company offers new and secondhand wooden pallets of different configurations and/or exchanges damaged pallets for intact ones in Moscow and Moscow region, Tver, Veliky Novgorod, Saint Petersburg, Rostov-on-Don
We guarantee on-time delivery (during 4 hours immediately upon order in Moscow and Moscow region). The lowest prices are possible if choosing collection of the products by buyer option.
New wooden pallets
PalletShop company has automatic and semi-automatic production line. Pallet manufacturing consists of many smoothly running stages and is carried under the surveillance of qualified specialists. All manufactured products undergo high-level quality control that assures our pallets quality. In addition to manufacturing quality control much attention is paid to manufactured pallets storage. A wide range of new wooden pallets that meet the State Union Standard (GOST) and all other necessary standards are always in stock. That allows you to choose any kind of wooden pallet you need. You can buy an unlimited quantity of pallets and we will deliver your order within the shortest possible time period. Delivery of pallets is effected at a time convenient to you. To choose a suitable type of a vehicle, please refer to the vehicle capacity chart.
Bespoke pallet manufacturing
Our processing lines allow us to manufacture bespoke pallets and carry out any volume of orders. Manager of any close-in office will help you to specify the cost and delivery deadlines of bespoke pallet manufacturing.
Secondhand pallets sale
Buying secondhand wooden pallets, a customer saves up to 50% of expenses in comparison with the purchase of new ones. All secondhand pallets undergo pre-sale preparation and multilevel quality control. In the course of the pre-sale preparation our specialists make sure there are no cracks, indelible impurities, that wood moisture content does not exceed acceptable value and nails do not poke out from the pallet board etc.
The list of the pallets for sale is presented in the section «second hand pallets catalogue». To get information about the pallet purchase availability and assortment specification, please, contact the manager.
Secondhand pallets classification
Grade I — a pallet used no more than once or twice, externally identical to the new one.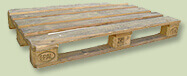 Grade II— a pallet used no more than three times. Minor non-technical impurities, minor wood darkening over time (up to light grey colour) are possible.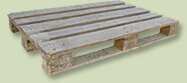 Grade III — a pallet used no more than three times. Minor non-technical impurities, minor wood darkening over time, minor splits (not exceeding 20 cm lengthwise and 2 cm breadth-wise) and unexposed cracks (up to 25 cm lengthwise) on the panels that do not reveal nails and do not have a significant impact on the pallet durability.
Customer's interests are important to Pallet shop company that is why we offer you:
Flexible working hours
Customized approach
Convenient form of payment
There are special cooperation conditions for regular customers and large pallets parties buyers.
For the address of the close -in warehouse please refer to the section contacts