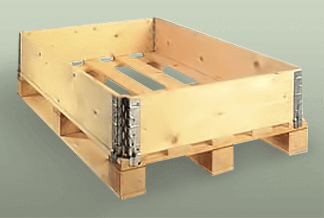 PalletShop company offers reusable pallet collars that meet all the necessary standards. You can purchase pallet collars from the warehouse at a time convenient to you or order a delivery. The lowest prices are possible if choosing collection of the products by buyer option. To specify the plastic pallet price taking into account special offer, please, call us toll-free or contact our manager.
Type of products: Reusable wooden pallet
Dimensions: at customer's option/ choice
Boards thickness: at customer's option
Description: Pallet collar consists of four boards that are conjoined by 4 steel hinges. Application: Pallets together with pallet collars can be used as an adjusted height container. Combined with plastic corners and metal holders, pallet collars allow organizing storage packaging system in the warehouses and in the shops. This system can be easily and quickly dismantled if necessary.
To specify the price and purchase pallet collars please contact our manager.
PalletShop company offers pallets collars that comply with all the necessary ISPM 15 phytosanitation regulations and therefore can be dispatched to other countries as well.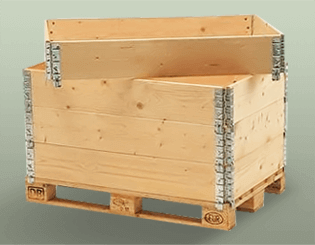 Pallet collars (removable collapsible pallet sides) are the part of a multiway storage container designed for compact storage, safe transportation and warehousing of products. They are widely spread and acknowledged in many countries.
Pallet collars are used in combination with standard wooden pallets and replace expensive and large-sized containers.
First pallet collar is attached to the pallet, other pallet collars are put on it and on each other and are fixed. In this way a container of necessary volume is assembled without fastening tools. Moreover, disassembled pallet collars occupy minimum space. That is rather important in the case of their return (reusable container) and warehousing
As a rule, package of a multiway storage container consists of:
four way pallet
one or several collapsible pallet collars
one or several(if there is a necessity to separate products )plywood lids
Usage of such package provides a number of advantages:
reliable security of products during transportation through pallet collars solid framework;
possibilty of dividers application (lids) allows to prevent the mixture of nonhomogenous products in any part of a container. Moreover, security lids allow to place containers with pallet collars one on top of other. This possibility provides effective usage of warehouse space;
the possibility of required height build-up, versatility according to cargo quantity;
standard pallet is used as container with pallet collars foundation that permits to shift them easily or perform handling operations;
reasonable price in comparison with wire, plastic or metal containers
To specify the price of pallet collars including special offer, please, contact our manager.