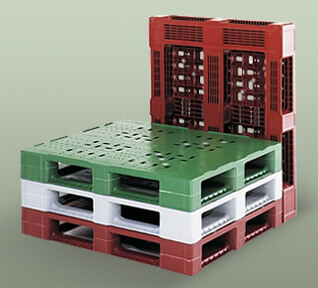 PalletShop company offers reusable plastic Euro-pallets that meet all the necessary standards. You can purchase plastic pallets from the warehouse at a time convenient to you or order a delivery. The lowest prices are possible if choosing the collection of the products by buyer option. To specify the plastic pallet price taking into account special offer, please, call us toll-free or contact our manager.
The main purpose of plastic pallets is to form unit loads during storage, mechanized handling and transportation of different products. Plastic pallets can be used indoors as well as outdoors. The plastic pallets have an operational temperature range of -40°C to 60°C. The special design ensures optimum grip of plastic pallets by transpalette or automatic loader and relief surface guarantees the stability of cargo during transportation.
Plastic pallets are manufactured from high quality food grade plastics, they are safe and indispensable in food and medical industry. High durability and structure reliability guarantee long service life of plastic pallets. The maximum apportioned static load of one plastic pallet is 2 tons and dynamic load is 1 ton.
ПPlastic pallets are light and are easily stacked.
Plastic pallets are in great request nowadays. They replaced wooden constructions used in manufacturing industries that require special hygiene.
Advantages of plastic pallets:
– Durability (minimal service life of plastic pallet is 10 years)
– Hygienic (plastic pallets are easily cleaned and disinfected)
– High durability, endurance of a pallet
– Monolithic case without any sharp edges, nails etc.
(protect products from damage and make the usage of plastic pallet safe)
– Plastic pallets do not support the processes of decay, do not absorb moisture and odors, do not accumulate harmful substances.
– Lightweight construction that is not affected by moisture and temperature changes.
– The possibility of stacking and compact storage.
– Nice exterior of the plastic pallets is preserved during the whole lifespan
– Plastic pallets are environment friendly and recyclable
Despite the fact that plastic pallet is 10 times more expensive than wooden one, life expectancy of such a pallet is longer and its high price pays off. Plastic pallets are very convenient for closed-loop logistics systems of pharmaсeutic, food, chemical industries. For example, haul cycle within the company.
| | | |
| --- | --- | --- |
| Title/dimensions | Nominal load capacity (kg) | Maximum load capacity (kg) |
| Plastic pallet 800х1200х145 secondhand | 1500 | 2000 |
| Plastic pallet 800х1200х145 Seconhand Second grade | 1100 | 2000 |
| Plastic pallet 800х1200х145 Secondhand third grade | 1000 | 2000 |
To get information about prices and to purchase plastic pallets, please, contact the manager.